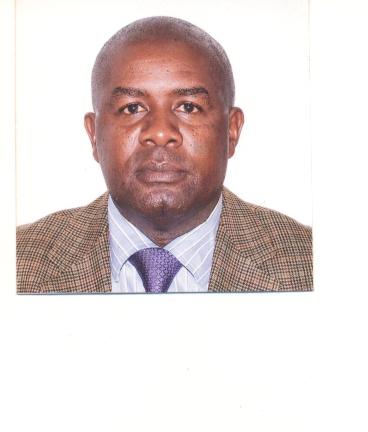 Callist Tindimugaya
Vice President - Sub Saharan Africa, Uganda
Biography
Callist Tindimugaya has a BSc in Geology and Chemistry (1990) from Makerere University, Kampala; an MSc in Hydrology and Water Resources with specialization in groundwater hydrology (2000) from IHE, Delft; a PhD in Groundwater Resources Management from University College, London (2008) and an MBA from the Management College of Southern Africa, Durban (2010). Callist started his professional career in 1990 as a hydrogeologist in the Ministry of Natural Resources and became Head of the Groundwater Section in 1999, responsible for all groundwater management activities in Uganda. Since 2007, he has been Commissioner for Water Resources Planning and Regulation in the Ministry of Water and Environment, responsible for planning, allocating and regulating water resources.
Callist has been IAH Council Member and Regional Vice President for Sub-Saharan Africa since 2012. He is also a Regional Coordinator for the Nile Integrated Water Resources Management Network; Chairman, Uganda Groundwater Professionals Association/National Chapter IAH; Member of the IAH Burdon Network, and Steering Committee Member of the African Groundwater Network. Callist's nomination has the full support of IAH Past President, Professor Ken Howard.
Personal statement
As Regional Vice President for Sub-Saharan Africa since 2012, I have promoted IAH as an international knowledge base contributing to sustainable groundwater management and development in Africa. I have linked IAH to key groundwater related institutions such as the Africa Groundwater Commission, River Basin Organisations, and Africa Groundwater Network. Within IAH Council, I have advocated for capacity building for African hydrogeologists. As a result, IAH has funded training courses on groundwater in Africa and supported participation of African hydrogeologists in groundwater conferences. I have also made efforts to increase the membership of IAH and the number of members from SSA has increased to 285, up from 165 in 2002. More than 15 of the new members are funded through the IAH sponsored members' scheme. Efforts have been made to strengthen existing IAH chapters and establish new chapters in Tanzania, Malawi and Zambia. A database on groundwater grey literature, an Africa Groundwater Atlas and monitoring network data review have been realized through IAH's Burdon Network.
During the next four years I will consolidate the above efforts. I will strengthen the links between IAH and the Africa Groundwater Commission and advocate for a clear role by IAH in advancing the groundwater agenda on the continent. In partnership with other organisations, I will promote the inclusion of groundwater in the activities of River Basin organisations. Capacity building for African hydrogeologists will continue to be my priority. I will lobby Council to earmark funds for a least two training courses annually for African hydrogeologists and also to prioritize sponsorship of African hydrogeologists to attend conferences. I will also lobby development partners and collaborators to support capacity building for African hydrogeologists. I will continue to support the establishment of new chapters in Tanzania, Malawi and Zambia among others. I will promote twinning between national chapters in sub-Saharan Africa and other well established chapters outside Africa. The activities of IAH's Burdon Groundwater Network as well as participation of IAH members from Sub-Saharan Africa in IAH Commissions and Networks will be consolidated and promoted.