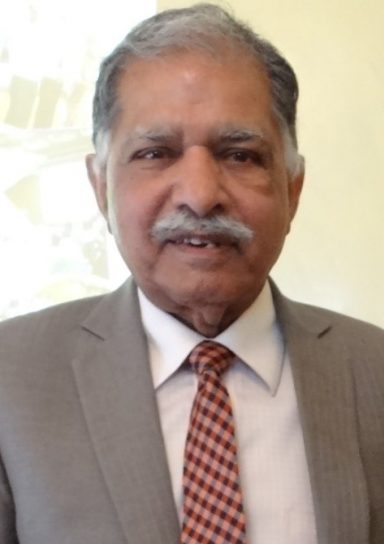 Devinder Kumar Chadha
Vice President, Asia, India
Biography
Dr Devinder Kumar Chadha is Chair Professor & Chairman, Centre for Advanced Water Technology & Management, Manav Rachna International Institute of Research & Studies, Faridabad, India. He was Chairman, Central Ground Water Board & Central Ground Water Authority (1997-2002) and held roles from Deputy General Manager to Group General Manager in RITES, India (1984-1997), a public sector enterprise for earth sciences technical services. He is President/Chief Advisor, Global Hydrogeological Solutions. His collaborative work includes UNESCO, Reliance, CAPART, GGSIP University.
He has a PhD in Geology from the Panjab University, Chandigarh, India in 1972 and MSc in Geology (1965). His interests are environmental hydrogeology, aquifer mapping, geochemistry, groundwater management and artificial recharge. He pioneered research in managing saline aquifers, rain-water harvesting, aquifer protection, regulation and governance. His work includes 11 Sponsored Research Projects, 4 consultancy projects, 100 research papers, 7 special publications, books and monographs.
His involvement with institutions in over 20 countries includes UNESCO, US-EPA, IAEA, Asia Pacific Network on Climate Change, and technical presentations. He has received several awards including the Bhoo-Vigyan Ratna Award and UNESCO IHP Water Award.
He contributed considerably to IAH activities as President of the Indian Chapter (1997-2002, 2015-2019) and Secretary (2013-2015): 6 national workshops, Savitri Chadha Memorial INC-IAH awards for Groundwater scientists in India instituted & sponsored (2014-2018), increased IAH membership. He is a life member of Indian Science Congress, Indian Society for Rock Mechanics and Tunnelling Technology, Indian Geologist Association, Indian Water Resources Association, Indian Geological Congress, Participatory Irrigation Management, Association of Exploration Geophysics, Indian Geotechnical Society, Association of Geoscientists for International Development.
Personal statement
IAH has become the front-runner for addressing groundwater-related issues and promoting groundwater professionals worldwide. India and China are the most populous countries of Asia and largest users of groundwater in the world. The region, with many developing nations and high population density, faces challenges of declining groundwater levels, over-exploitation groundwater contamination, transboundary aquifer conflicts, water-use efficiency and governance issues.
These challenges bring huge opportunities for groundwater professionals in the region. The IAH Vice President-Asia needs to address these issues and help in bringing the groundwater professionals of the region under a single roof of IAH to serve the environment and society.
It will be my endeavour to promote dialogue among members/chapters of IAH in the Asian region and increase membership, as has been done for the Indian National Chapters during my tenure as Secretary and President, when membership increased from 26 (2012) to 143 (2019). Efforts will be made to collaborate and organize joint meetings to enhance the voice of IAH, in Asia. For this, the Vice President should have the blend of experience in higher posts in academic and administrative organizations, which I am privileged to hold.
The dependence on developing aquifer systems for assured water supply is increasing; hydrogeology needs a rapid push and an assertive Vice President to take up the future challenges.