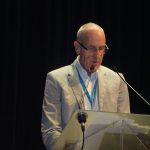 Professor Richard Carter was the worthy first recipient of the "Applied Hydrogeology Award"; proposed as one of the activities to recognise IAH'S 60th anniversary. We are happy to announce a call for nominations for the 2017 award, which will be presented at the 44th Congress in Dubrovnik.
The same criteria will apply as last year. Thus the award will be presented to a groundwater professional who has made an outstanding contribution to the application of hydrogeology, preferentially in developing countries or in support of international development efforts. Hydrogeological problems are often discussed from an academic point of view but solutions and applications in the field usually require pragmatic thinking and sometimes unconventional approaches. The panel will give particular emphasis in their evaluation to work which has contributed to an increase in living standards in developing countries.
Any IAH member may nominate a candidate, but self-nominations will not be accepted. Proposals should reach the IAH Secretariat by e-mail (info@iah.org) as one single pdf-file before July 1st, and should include:
An explanatory statement by the person submitting the proposal;
A letter of recommendation by any other supporter;
A brief curriculum vitae of the candidate;
A list of projects the candidate has carried out, including aims, region and period of time;
A list of projects (planned or accepted), patents, publications or equivalent information.
The total submission should not exceed 5 pages of text in one coherent pdf-file. A panel of three appointed by Council will evaluate the proposals. We look forward to receiving your nominations and to making this new initiative a continuing success.
Find out more