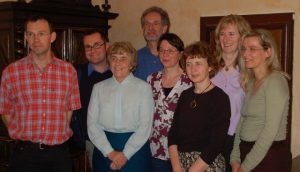 Christine Watson, who for over 10 years was a key person in the IAH UK virtual office, has died at home after a short illness, just before her 80th birthday. I represented IAH and spoke at her funeral in Lytham St Annes, England on 5th April 2023. Christine lived close by the famous golf course. She did not play golf but she loved the sea and the dunes.
Christine is pictured here 3rd left, with the HJ Editorial Team in Dijon, 2006. Her association with IAH began when she was my very efficient personal secretary at the Environment Agency in the UK. IAH was about to begin a period of change and to do that well we had to expand our administrative support. Fortunately, Christine was up for new challenges and so from 1995 she began to support my work for IAH alongside her other duties. The Council had begun a process of changing IAH from an unincorporated club to a not-for-profit charitable company for which Christine provided invaluable support, combining her secretarial and bookkeeping skills with her tactful diplomacy, to help keep a challenging process from going off the rails.
The General Assembly of IAH approved the organisational changes at the Cape Town Congress in the year 2000, but other challenges were ahead, most notably the need to create an administrative infrastructure to work in partnership with our publisher, Springer, to sustain the growth of Hydrogeology Journal (HJ), at a time when the HJ Editors and publication procedures were changing significantly.
Cliff Voss, then and still the Editor of HJ, outlined the issues to me in discussions at the margins of the Munich Congress in 2001, which took place while the 9/11 tragedy played out in the US. We could not meet our goal of a timely publication of a growing number of articles and make best use of the new team of editors without embedding the publisher's new management software with IAH. Who could do this? The answer was Christine. She played a key role, as the first HJ Editorial Office Manager, to make these changes happen, and at the same time Christine continued to support me in the overall running of the organisation.
Her final challenge was to manage her retirement in 2006, training a new HJ Editorial Office Manager working in Berlin, facilitating the transfer of the Secretariat within the UK, and supporting both until they were established. Her influence on the Association can still be identified in the systems and procedures she introduced that survive today because they just work so well. She was a stickler for doing things simply and consistently and regularly found innovative approaches to problems. Christine achieved these results with tact and humour that her co-workers much appreciated. She was admired and loved by those with whom she worked and perhaps sometimes a little feared because of her dogged determination to get things done efficiently.
Christine occasionally combined her attendance at IAH meetings with holiday trips with her husband Chris – Bled in 2003 and Dijon in 2006 come to mind. She was an enthusiastic traveller and had many trips with Chris sailing and by camper van during their retirement, although by then she no longer needed to take her shorthand pad and pencils along with her.
Thank you, Christine, for the contributions you made to our Association and take pride from the fact that, more than fifteen years after you moved on, there are people in the team with whom you worked who still appreciate the procedures that you implemented and there are people in the team with whom you never worked who know of and respect the roles you played.
Dr A. Carla Skinner
Sometime Secretary-General and Executive Manager, IAH, 1989-2006
incorporating input from Cliff Voss, Susanne Schemann, Ian Davey and Kellie Nicholson