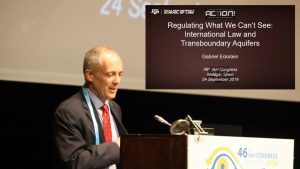 We've uploaded a further video from last year's congress in Malaga, namely Gabriel Eckstein presenting his keynote lecture "Regulating what we can't see: International Law and Transboundary Aquifers".
We'd like to thank Gabriel Eckstein, the Texas A&M University School of Law and IWRA for granting permission for its use, as well as the Malaga congress organising committee and our Early Career Hydrogeologists' Network for making this possible.
More videos will be following so do keep checking!
You may have also spotted early publicity for an online conference hosted by IWRA on "Addressing Groundwater Resilience under Climate Change" on 28/29 October 2020 . IAH's Commission for Groundwater and Climate Change is indeed one of the co-organisers – more news from everyone will be following soon.
Find out more
Texas A&M University School of Law
International Water Resources Association
IAH Early Career Hydrogeologists' Network (ECHN)
IAH Commission for Groundwater and Climate Change (CGCC)