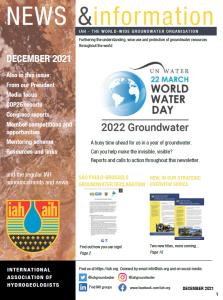 The December 2021 edition of "News and Information" is now available to read. As well as looking ahead to a year of groundwater, it features the usual mix of news, reports and calls, resources and competitions; event and other listings, all from the global IAH "family".
We are happy to consider possible news articles from our members and others in groundwater-related professions. We also accept commercial advertisements. Our current advertising rates are €300 per full-page advert and €200 per half page. These rates apply for one issue. If you take an advert in two successive issues then the third is offered free of charge. Corporate "red scheme" members and corporate gold sponsors of IAH are entitled to 50% off the quoted rates.
All copy must be provided electronically.  Copy dates are 1 March, 1 June and 1 October. Email info@iah.org for further information.
Find out more
Read December IAH News and Information