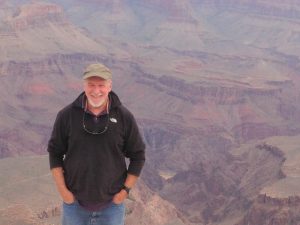 As we near the end of 2021 it's important to reflect on those we have lost during the year – friends, family, and colleagues. To those who have lost loved ones, our sincere and profound condolences. This has been a remarkable year for all of us, and the impacts on our association and our profession will be long lasting. As extreme weather events, climate change, and population growth continues, groundwater is a last lifeline. It supports a thirsty world where over 2.5 billion people depend solely on groundwater resources to satisfy their basic daily water needs. Groundwater is an essential element in sustaining our spring and wetland ecosystems. It is the backbone of agriculture and industry, supporting food and economic security, but in a larger sense, sustaining political stability and peace. The work we do as hydrogeologists has as much positive impact in the world as any profession on the planet.
In 2021 we have had two international Congresses in Brazil and Belgium. Both were excellent, in spite of the uncertainties of the Covid 19 pandemic. Coming out of the Congresses was the Sao Paulo – Brussels Groundwater Declaration. If you haven't become a signatory to the Declaration, please consider adding your voice here: https://iah.org/gwdeclaration.
The United Nations declared that, for the very first time, the theme of World Water Day in March of 2022 would be on groundwater, "Making the invisible, visible", and 2022 is shaping up to be a year of groundwater. Find out more at https://www.worldwaterday.org/ . IAH is one of the partners and we look forward to working with others, sharing conversations and resources, increasing awareness and understanding for the good of all on this precious planet.
IAH has established a Statement on Equity, Diversity and Inclusion and is dedicated to welcoming all: https://iah.org/about/statement-on-equity-diversity-and-inclusion. We believe that properly addressing issues of diversity, inclusion and equity are important for the long-term health and sustainability of the geosciences. IAH is committed to creating an inclusive environment within the Association and through its relationship with other organizations, and to widening participation in all its activities. We are also broadening educational materials, creating groundwater videos, and expanding our Strategic Overview Series with translation into many languages: https://iah.org/education/professionals/strategic-overview-series.
IAH is celebrating its 65th birthday, and we have a great deal of gratitude for all those who continue to make our association the largest and best organization in the world devoted to groundwater science, charity, and education. To all our thousands of members globally who participate from over 130 countries; in our National Chapters; in IAH Commissions and Networks; as Hydrogeology Journal editors; as organizers of Congresses, conferences, and webinars; our Council, and to our hard-working Secretariat – thanks. We encourage everyone from all backgrounds to be part of IAH activities.
A year of groundwater, 2022, will be an exciting time for all groundwater professionals with many events, conferences, Commission and Network meetings, and interaction with the United Nations and other international organizations. If you have questions on upcoming meetings do not hesitate to contact us and keep checking back for news and calls via our website, social media and other communications.
Best wishes to everyone for an excellent new year.
David Kreamer
IAH President