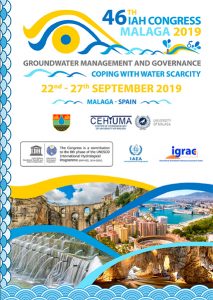 The IAH Spanish Chapter (IAH-GE) and the Center of Hydrogeology of the University of Malaga (CEHIUMA) are honored to host and invite you to the 46th IAH Congress in Malaga, Spain in 2019.
With the overall theme of Groundwater Management and Governance – Coping with Water Scarcity, the congress has 10 themes:
Groundwater assessment and management
Groundwater and climate change
Groundwater sustainability and governance
Groundwater footprint and virtual water
Tools, methods and models to study groundwater
Groundwater, wetlands and natural heritage
Karst Hydrogeology
Groundwater quality and pollution processes
Groundwater and socioeconomic development in Latin-America
Urban Groundwater
Abstract submission and registration is now open, with a deadline of 30th March 2019 for abstracts. We hope to see you there!
Find out more
http://bit.ly/2qgXPf2 (first announcement)