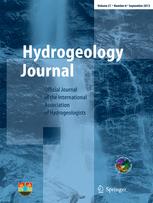 Hydrogeology Journal (Feb 2020) updates the hydrogeological and socio-hydrogeological understanding of Australia's Great Artesian Basin, one of the world's most iconic and largest groundwater basins.
This special issue focusses on the new science emanating from research undertaken over the last decade or so, in response to intensifying pressures and management needs. The guest editors (Carlos Miraldo Ordens, Neil McIntyre, Jim Underschultz, Tim Ransley, Catherine Moore and Dirk Mallants) collected 26 articles, including a tribute to the late Justin Costelloe. The issue covers the following topics:
History of the Great Artesian Basin
Groundwater flow processes (compartmentalisation and connectivity, aquifer flows, numerical modelling, and springs and groundwater-dependent ecosystems)
Groundwater governance and management tools
The research pulls together the work of several universities, research agencies, government agencies, and coal seam gas and consultant companies, and it provides insights of relevance for those faced with understanding and managing large and complex groundwater systems beyond Australia.
We're delighted to confirm, thanks to our publisher Springer, that the special issue articles will be freely accessible until 31 March 2020 and can be found at the link below.
Find out more
https://link.springer.com/journal/10040/28/1