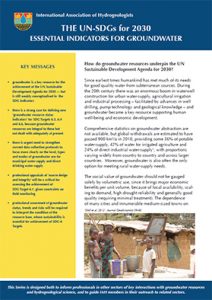 Following the success of six IAH Strategic Overview Papers prepared during 2015 and 2016, a further paper focused on the relationship between groundwater and UN Sustainable Development Goals (SDGs), and in particular SDG-6 on Water has just been completed. An authoritative paper on this topic enables IAH to inform discussions within global fora, such as the High Level Panel on Water, on the important role groundwater plays in meeting SDG-6 Targets. It also helps to explain the conceptual and practical challenges involved in monitoring groundwater in relation to SDG Targets. As hydrogeologists, we know that it is much more difficult to monitor and assess the quantity and quality of groundwater compared to surface water, but many of these complexities are not properly understood by the broader water sector.
The overview paper makes recommendations both for (a) defining new indicators of groundwater resource status and (b) for a stronger emphasis on appraisal of groundwater source design and source integrity in determining its acceptability, given the constraints on adequate field monitoring of very large numbers of sources. The recommendations have been well received and at the time of writing we are working to ensure as wide as possible dissemination of the paper.
IAH members and supporters are welcome to download and use the document in the same way as the other strategic overview papers in their own efforts to promote better understanding of the significance of the relationship between the long list of SDG Targets and groundwater.
Find out more
Strategic Overview Series (IAH Learning Resources)