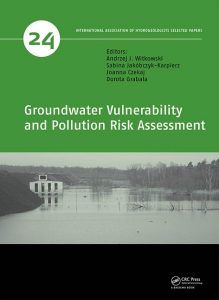 The book is valuable for those interested in groundwater vulnerability, in risk assessment, and in environmental issues. It is aimed at land use planners, water managers, the environmental industry, regional and local environmental protection councils and students studying hydrogeology and environmental sciences.
Edited by Andrzej J. Witkowski, Sabina Jakóbczyk-Karpierz, Joanna Czekaj and Dorota Grabala, the volume offers detailed comparisons and validations of different methods of assessing groundwater vulnerability (DRASTIC, GOD, PI, RTt, AVI, SINTACS, COP). It contains new aspects of vulnerability assessment for the evaluation of coastal aquifer vulnerability and aquifer vulnerability to methane gas leakage from shale gas wells. The book also contains the results of studies on intrinsic and specific vulnerability assessment (migration of antibiotics and nitrate, groundwatersurface water interaction), with examples of the different national approaches to groundwater vulnerability mapping in Poland, Ireland, Italy and elsewhere. There are 15 chapters derived from two IAH conferences held in Ustron´, Poland in 2015 and 2018.
Available in hardback (IAH members receive a 30% discount); ebook and ebook rental.
Find out more
CRC/Taylor and Francis website – book information and ordering
IAH members – book discount information