The 2020 IAH awards were announced during the online General Assembly (Annual General Meeting) of the Association by Antonio Chambel, IAH President.
The Presidents' Award is determined by the current and past presidents. In 2020 the award was given to Professor Bruce Misstear.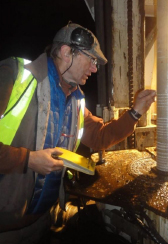 IAH's Applied Hydrogeology Award is presented to "a groundwater professional who has made an outstanding contribution to the application of hydrogeology, preferably in developing countries or in support of international development". Nominations are invited from IAH members in March of each year; in 2020 we are grateful to our new panel of Richard Carter, Richard, Moshood Tijani and Wendy Timms for their careful considerations – during which they agreed unanimously to award two worthy recipients. The Award for 2020 was presented to: David Ball for his work with refugees and nomads in areas of poor security in the African Sahel and the Horn of Africa and for his early ability to innovate in the absence of modern equipment for drilling, testing and exploration; also Dr Abdel Hafiz Gadelmula for his work in refugee settlements, including in conflict zones, and his participation in projects that have enabled countless numbers of people to normalise their lives and for some to return to their homes after being in displacement camps for many years
The title of Honorary Member is from time to time given to those who have given exceptional services to IAH over a long period. Following a recommendation by Council, the General Assembly voted to approve Ken Howard and Cliff Voss.
Finally, the IAH Distinguished Associate Award is presented to a person who is not a groundwater professional but has made an outstanding contribution to the understanding, development, management and protection of groundwater resources internationally. The Award is made by the IAH Executive Committee following consultation. Owing to the Covid-19 pandemic causing the postponement of IAH's Congress in Brazil, the Executive Committee was regretfully unable to consider a recipient for the year. We hope to see its return in 2021.
Find out more