The 2017 IAH awards were announced at the General Assembly (Annual General Meeting) of the Association, held on Tuesday 26 September during the Dubrovnik congress, and presented by Antonio Chambel, IAH President.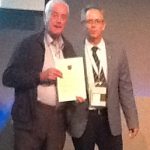 The Presidents' Award is determined by the current and past presidents. In 2017 the award was given to Dr Petar Milanovic, who has been an excellent ambassador for IAH and for groundwater overall, and a worthy recipient.
The title of Honorary Member is from time to time given to those who have given exceptional services to IAH over a long period. Following a recommendation by Council, the General Assembly voted to award Dr Wilhelm Struckmeier, affectionately known as Willi, who has been a member and long-standing servant of IAH since 1977.
IAH's Applied Hydrogeology Award is presented to "a groundwater professional who has made an outstanding contribution to the application of hydrogeology, preferably in developing countries or in support of international development". Nominations are invited in March of each year; in 2017 IAH received 3 nominations and we are grateful to the panel of Jane Dottridge, Callist Tindimugaya and Willi Struckmeier for their careful considerations. The Award was presented to Dr Zaisheng Han, whose geothermal energy estimates for China provide the foundation for current development of renewable power and energy usage. He continues to support both China and Asia in developing groundwater sciences.
Finally, the IAH Distinguished Associate Award is presented to a person who is not a groundwater professional but has made an outstanding contribution to the understanding, development, management and protection of groundwater resources internationally. The Award is made by the IAH Executive Committee following consultation. The Award for 2017 was presented to Dr Kerstin Danert, a Water Specialist at Skat, Swiss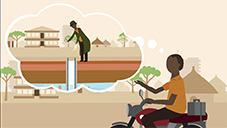 Resource Centre and Consultancies for Development. Dr Danert was unable to attend congress but sent a message of thanks to colleagues at the General Assembly who, after watching one of the Rural Water Supply Network (RWSN) videos, were delighted to acknowledge her personal contribution to the enhancement of wastewater management and groundwater protection worldwide (view video).
Find out more