At the beginning of this decade IAH embarked on a Forward Look planning initiative, which started with a survey of members' views on how the association should develop, followed by a strategy meeting held in Reading, UK in 2010. This led to the Forward Look Action Plan that identified a series of actions for IAH for the next 10 years. The actions were grouped under 5 main themes:
Education and academic development
Internal development of IAH
Informing and influencing global policy
Enhancing alliances with external agencies
Developing the science of hydrogeology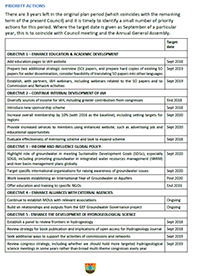 We are now less than 3 years from the end of this planning period and in recent months IAH's Executive has reviewed where we are. We have also prepared a short leaflet summarising our achievements and listing the priority actions to 2020.
The identification of longer term actions will be the responsibility of the next Council (which will be elected in 2020), working closely with our Commissions, Networks and wider membership. Any new plan will, to some extent, depend on how successfully the priority actions have been achieved. It will be especially important to make progress with those actions geared towards providing additional resources, through activities such as congresses, sponsorships and increased fee income from a larger membership.
In the meantime, I would like to thank all our members across the globe whose hard work has helped our association grow over this period and achieve many of its aims. I would especially like to acknowledge the contribution of Shammy Puri, my predecessor as Secretary General, who put together the original Action Plan and oversaw its implementation.
Bruce Misstear, IAH Secretary General
Find out more
Forward Look Achievements and Priority Actions
A Forward Look for our Association: IAH's Future Plans to 2020 and Beyond