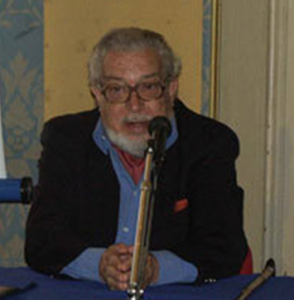 Aurelio Aureli was Professor at the University of Catania and Palermo. He taught Geomorphology and Applied Geology.  During his long career, he studied many aspects of Sicilian Hydrogeology, producing the firsts vulnerability maps in Sicily. He was author of many papers, published in International Journals and presented at International Conferences around the world.
He was a man of great culture, not only passionate about geology, but also a great lover of history and literature. He collected ancient books and maps and he was able to spread his passion for researching, opening the door of his office, and sharing data and ancient books to every student or researcher. His last unpublished work, titled "Sicula Terra", was in fact intended to share all the data acquired in his long career.
He was thesis supervisor for hundreds of students, teaching them not only the aspects strictly related to the geology, but also the way to approach problems and how to solve them. This aspect, merged with his wonderful character, made him not only a professor, but a special person, always willing to help you in your professional career.
He encouraged his students and collaborators to study abroad and to work in international teams, to attend conferences and present their works. He allowed his students and collaborators their won space and, as result of this, a large number of published papers see only the student's name as Author.
During the last years of his life, he continued to read and to feed his passions, remaining always available to give his help in professional issues.
It seems unreal that, within a few hours, everyone who came to know him, gained the awareness of his human nature. The void he left in all the people who had the honour of knowing him is unbridgeable.
Salvatore Carrubba