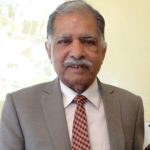 It is with profound sadness that we received the news of the sudden passing of Dr. Devinder Kumar Chadha. On behalf of all of the International Association of Hydrogeologists, we wish to express our condolences to his family, friends, colleagues, and to all members of the IAH Indian National Chapter and international community who mourn his death.
Professor Chadha was a champion for hydrogeologists everywhere, playing a central role in research on such topics as aquifer recharge, environmental hydrogeology and aquifer mapping. His work, resulting in over 100 research papers, special publications, books and monographs, was truly international and recognized by the many awards he received including the prestigious UNESCO IHP Water Award. Further, he unselfishly devoted himself to the hydrogeologic community including serving as IAH Vice President for Asia, as several-time President and Secretary of the IAH India National Chapter, and as Chairman of the Centre for Advanced Water Technology & Management, Manav Rachna International Institute of Research & Studies, in Faridabad, India. In 2013 he was awarded a certificate of appreciation by the IAH Executive for his sustained and impactful contribution to the advancement of MAR in India, including through his work while Chair of CGWB.
His far-sighted vision for groundwater governance, water-use efficiency, reduction of groundwater contamination, and preventing over-exploitation of groundwater in the face of population growth and climate change has been a shining example to both young and old hydrogeologists alike. The world is a better place for having had Devinder Kumar in it. He will be greatly missed.
Professor David Kreamer, IAH President