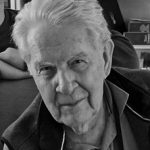 We are very sad to announce the death of John Moore, following a short illness. John was a long time IAH member and former IAH President (1993-1996). He will be missed by IAH, particularly by those also with long term connections with our Association.
John was born in Columbus, OH in 1931 to Thomas and Cheryl Moore. He attended Ohio Wesleyan University graduating with a degree in geology. This would begin his distinguished professional and educational career that includes a MS and PhD degree from the University of Illinois, as well as a stint in the Air Force as an electrical engineer.
After receiving his PhD from the University of Illinois, John Moore had a long and distinguished career with the U.S. Geological Survey. He did some of the pioneering groundwater studies in Colorado. While in Colorado, he also advanced to the position of Regional Ground-Water Specialist, helping to direct and oversee groundwater studies in all of the Rocky Mountain and Great Plains states. He also later served as Chief of the Tampa, Florida, USGS office, and then served in several leadership positions in USGS Headquarters in Reston, VA. While in Reston, he also served as a liaison and consultant to the U.S. EPA in their development of groundwater regulations and policies. John was a major contributor to the field of groundwater science, having published 10 books and about 80 technical papers. One of his most noteworthy books was "Field Hydrogeology," published by Lewis Publishers. He was also an expert on the history of hydrogeology, and published several works on this topic. He was co-editor of the popular reference book "Glossary of Hydrology," published by the American Geosciences Institute.
John was always active in promoting groundwater science and in mentoring young scientists.  He has taught numerous short courses around the world, and taught college courses at Metro State College in Denver. He had long been active in professional societies, including organizing and convening numerous technical sessions.  John is a past President of the International Association of Hydrogeologists and of the American Institute of Hydrology. He is a Fellow of the Geological Society of America, and an honorary Life Member of the International Association of Hydrogeologists, where he was also Chair of the Education and Training Commission.  He was also a Life Member of the National Groundwater Association. John also served on the Editorial Board of Environmental Geology.
He traveled the world with his wife of 58 years, was active in the Cub Scouts, volunteered at the St. Francis Center and participated in the Rides the Rockies bicycle tour twice. They were avid standard poodle parents and are survived by Soleil, Peter and Henry, the last in a long line of outstanding companions.
John is predeceased by his wife Unetta (Dickie) Moore and survived by his children Pamela and Sean and four grandchildren, Andrew, Carter, Cole and Celia as well as his brother, Ted Moore. On behalf of IAH, we extend our sympathy to the Moore family, and to his friends and colleagues in USGS, EPA, IAH and beyond.
http://www.newcomerdenver.com/Obituary/152688/John-Moore/Denver-Colorado