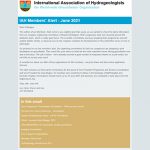 Our
latest alert has just landed in members' inboxes. It contains information about our Hydrogeology Journal content, access to which which members automatically receive (as well as discounts on open access publishing in the journal); 3 calls for participation; a book prize draw and opportunities for free

online

registration for our 47th congress in Brazil.
If you're an IAH member, check your email – do we have the right contact details for you? And if you are not an IAH member, you can find out how to join the global groundwater family here:
https://iah.org/join-us
. Our fee structure includes generous student discounts. We also run a sponsored membership scheme for those who would benefit from membership but are prevented by economic or practical reasons.
Find out more