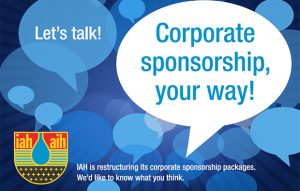 IAH wants to encourage more corporate members and sponsors to join us and we are reviewing the benefits and services we provide…
IAH has more than 60 years of history based on trust. This is thanks to its 4000+ members, and its supporters and collaborators, who share a mission to further the understanding, wise use and protection of groundwater resources throughout the world. It is truly a global organisation.
We want to know what more we could do for companies, organisations and institutes, to establish "win-win" relationships. This might be through offering better advertising opportunities, membership benefits and branding, but we are seeking more innovative ideas such as providing training/event support too.
Talk to us. What do you think?
Contact us: info@iah.org, and/or
Complete our survey: http://bit.ly/IAHcorporatesurvey