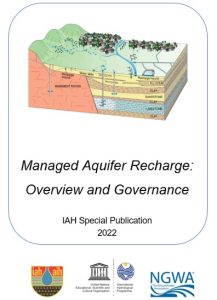 Dillon, P., W. Alley, Y. Zheng, and J. Vanderzalm (editors), 2022, Managed Aquifer Recharge: Overview and Governance. IAH Special Publication (90p, 2.4 MB)
This book has been prepared jointly by IAH, UNESCO and NGWA with encouragement of the Ground Water Project. It has now been published as a Special Publication of IAH.
Section 1: Basic Concepts of Managed Aquifer Recharge, gives an overview of purposes, types, source waters, advantages, challenges, and essential requirements of MAR.
Section 2: Considerations for Water Resources Planning and Management is an international synthesis of policy innovations to harness and encourage MAR in water resources management for sustainability in both developing and advanced jurisdictions
Section 3: Considerations for Water Quality Management, gives an overview of water quality management strategies for health and environmental protection in MAR from a variety of starting positions and capabilities.
Download for free at https://bit.ly/3HIbSkx
We have a specialist commission on Managing Aquifer Recharge. Find out more here: https://recharge.iah.org/