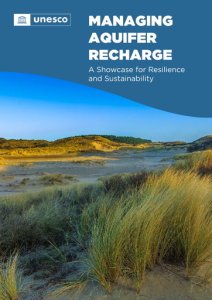 We are delighted to announce a UNESCO book on Managed Aquifer Recharge (MAR), which presents 28 real-life examples showcasing sustainability in potentia.
Groundwater is the earth's foundational water resource that supplies streams and wells, and hence drinking water and food for the majority of people on the planet. It buffers water supplies during drought and climate change and can give the purest safest natural drinking water. However, as a hidden resource its effective management needs vision and understanding, and particularly its connections with all forms of surface water. Enhancing groundwater recharge will become an increasingly valuable adjunct to approach groundwater extraction in order to continue to have durable supplies. Thousands of examples of managing aquifer recharge can be found but few are documented in such a way to give a clear picture of the sustainability and economics of such supplies. Hence this book was produced as a significant product of a chain of activity that goes back 20 years.
UNESCO and IAH's MAR commission are pleased to have initiated this production, with support also from the Groundwater Solutions Initiative for Policy and Practice (GRIPP), as a milestone contribution to IHP-VIII: Water Security: Responses to Local, Regional, and Global Challenges.
Edited by Prof. Yan Zheng, Dr. Andrew Ross, Dr. Karen Villholth and Dr. Peter Dillon, we are grateful to the many who have contributed to its production.
The book is free to download from the link below.
Find out more
Read – Managing Aquifer Recharge, A showcase for Resilience and Sustainability