Now is the best time to renew membership, or join IAH if you haven't already done so.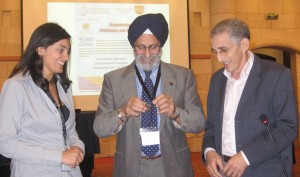 Our aim is to be the leading world-wide professional association for the science and practice of hydrogeology and to 'further the understanding, wise use and protection of groundwater resources throughout the world'. Your involvement is fundamental, no matter where your day to day work is carried out. Together – as the global groundwater family – we can achieve much through a variety of networking and knowledge-sharing opportunities – local on the ground activities through to influencing governments and development of global policy – which all help to improve the profile of groundwater and the professional community.
Membership of IAH continues to bring a range of benefits and perks including the Hydrogeology Journal, and a host of discounts and other offers. We have a variety of membership types for individuals and companies/organisations, and a number of discounts – including generous student rates, all to help encourage future generations of expert knowledge. We also run a sponsorship scheme for those unable to join the association for financial or practical reasons. In this year's survey our members said that IAH continues to be good value, but some thought that there should not be a rise in fees at this time. So we are pleased to confirm that there are no increases to membership fees for 2020! We have also introduced a discount for those moving from student to full IAH membership, which we hope will help the transition to both careers and a place in IAH's future.
We hope that 2020 will be a good year for you and for IAH and we look forward to your support. Please encourage friends and colleagues to join, too. The more members we have the more we can improve the benefits of membership and ensure that we have a powerful and effective voice internationally.
If you pay online you should by now have received your renewal notice from Sharon Warden
If you pay locally via your National Chapter you should receive a notice from your country's contact
If you would like to join IAH as a new member you can do so through the Join Us area of this website
Find out more
Members' Area (login for existing members)
Join Us (for new members)
National Chapters (for contact information locally to you)
Email Sharon Warden (for membership queries)