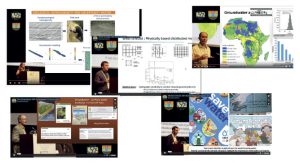 While a bit slower than we'd have liked, we're happy to announce that the final batch of keynote lectures from our Malaga congress is now available to watch on IAH's Vimeo and YouTube channels, namely: Marijke Huysmans – Dealing with geological heterogeneity and uncertainty in groundwater modelling; Hervé Jourde – Karst functioning – what do we learn from the various modelling methods?; Alan MacDonald – Groundwater, water security and sustainable livelihoods; Don Rosenberry – The importance of biological processes in quantifying the connection between wetlands and groundwater; Stefano Viaroli – The good, the bad and the bottled" – considerations of the effects of our habits on water and environmental protection (ECHN keynote lecture).
To view these and all IAH videos, visit our channels via:
Vimeo channel
YouTube channel
And of course we hope the videos will encourage you to participate in at least one of our two congresses this year!
We thank all the keynote speakers featured for their participation and agreement, and also a special thank you once again to colleagues in our Early Career Hydrogeologists' network for all the time dedicated to make this happen.