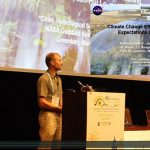 We've uploaded a further video from last year's congress in Malaga, namely Matthew Rodell presenting his keynote lecture "Climate Change Effects on Groundwater: Expectations and Observations".
We'd like to thank Matthew Rodell and the Hydrological Sciences Laboratory of NASA Goddard Space Flight Centre, as well as the Malaga congress organising committee and our Early Career Hydrogeologists' Network for making this possible.
More videos will be following so do keep checking!
If the subject of Climate Change and Groundwater is in your fields of work you may be interested to know we have specialist Commission. You can find out more using the links below.
Find out more
Watch Matthew Rodell video (Vimeo, advert free)
Watch Matthew Rodell video (YouTube)
IAH Early Career Hydrogeologists' Network (ECHN)
IAH Commission for Groundwater and Climate Change (CGCC)