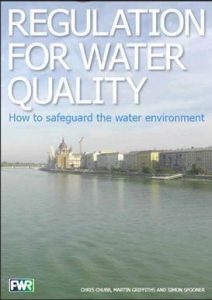 We have a print edition of "Regulating for Water Quality – How to Safeguard the Water Environment" from The Foundation for Water Research available in a prize draw. You do not have to be an IAH member to enter.
We're sure many of you will be aware that it is possible to download the book from http://www.fwr.org/WQreg/index.htm, but we know that for some (especially in current times), the reassuring feel of a *real* book in hands still feels special! If this is you, or someone you know, entry information is below.
"It can be argued that water is the most precious of all natural resources and is therefore most in need of good regulation. Too much water causes floods, too little causes water scarcity and drought. Activities that pollute water make it unavailable for drinking, industry, food production and wider societal use. Cleaning up polluted water is very expensive and thefore water protection and pollution prevention activities are very cost-effective options."
This is open to all – not just IAH members – please feel free to help us publicise this.
Enter the draw here: https://www.surveymonkey.co.uk/r/RWQ_book
---
Terms and conditions
Prize draw closes 11.00pm GMT on Wednesday 31 March 2021. Entry is open to all. One entry per individual (additional entries will be discarded). One copy of the book is on offer for this draw. The winner will be picked by random draw and will be contacted by email soon after the closing date. The winner will be also be announced in the December 2021 edition of "News and Information".
Questions or comments? Email info@iah.org