22 March is UN World Water Day, which this year is devoted to groundwater. Groundwater is a vital resource, out of sight, but almost everywhere under our feet. It provides up to half the world's drinking water. Our food supply, natural environment and sanitation all rely on groundwater. Without better stewardship we face the threat of water supplies becoming inadequate or polluted. There is a pressing need for greater awareness of a looming water crisis and concerted action to protect life on the planet.
In this 'year for groundwater' the International Association of Hydrogeologists is highlighting the need to ensure wise use and protection of groundwater resources. We are urging people to think about how much water they use and where it really comes from, and to consider what we all can do to protect this vital resource. We invite everyone to support WWD 2022 and to sign the São Paulo- Brussels Groundwater Declaration (https://iah.org/gwdeclaration).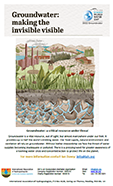 The International Association of Hydrogeologists has published a news release which tells you more about some of the critical issues facing groundwater and society across the world.
Find out more
World Water Development Report