The theme for World Water Day 2018 was 'Nature for Water' and how we can reduce floods, droughts and water pollution by using the solutions we already find in nature nature-based solutions.
All too often, damaged ecosystems affect the quantity and quality of water available for people and wildlife. Still today, 2.1 billion people live without safe drinking water at home, which affects their health, education and livelihoods.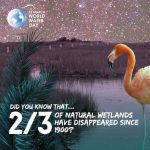 The 2018 edition of the World Water Development Report (WWDR 2018), launched at the 8th World Water Forum in Brasilia, Brazil, on March 19, states that nature-based solutions (NBS) are "inspired and supported by nature and use, or mimic, natural processes to contribute to the improved management of water. An NBS can involve conserving or rehabilitating natural ecosystems and/or the enhancement or creation of natural processes in modified or artificial ecosystems."
The Report notes that "Groundwater has an important environmental role of sustaining river flows and ecosystem services. Groundwater is also becoming an increasingly important resource for human development and economies. Groundwater is more accessible for poor communities than river flow…"
It recognises the importance of groundwater in "alleviating adverse impacts of both floods and droughts.… and impacts of progressive climate change overall."
Nature-based solutions are seen as particularly relevant to Sustainable Development Goal (SDG) 6, which commits the world to ensuring that everyone has access to safe water by 2030 and includes targets on protecting the natural environment and reducing pollution. It promotes conjunctive uses of groundwater and surface water, enhanced groundwater recharge through improved land management, urban green infrastructure e.g. permeable pavements, sustainable urban drainage systems. SDG 6.6 emphasises the need for protecting and restoring water-related ecosystems, including the role of aquifers.
Managed aquifer recharge (MAR), as championed by the IAH's MAR Commission, is considered to have the potential to serve several purposes, including maximizing water storage, replenishing depleting aquifers, improving water quality, improving soil quality and providing ecological benefits such as groundwater-dependent plant communities or enhanced downstream river flows.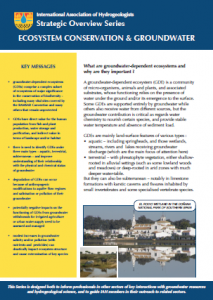 As noted in our own paper on "Ecosystem Conservation and Groundwater" (part of our Strategic Overview Series), 'groundwater dependent ecosystems' and groundwater supported wetlands are fundamental to the conservation of biodiversity – many being vital for survival of a wide variety of species and figuring prominently in sites covered by the RAMSAR Convention. Moreover, groundwater dependent ecosystems can be of significance as a renewable source of human nutrition and as key features in the local landscape such as springs and lagoons.
Further to this, our SOS paper on the UN-SDGs for 2030 emphasises how aquifers naturally provide the functions of water-supply filtration, storage, distribution and protection. Moreover, groundwater storage represents a natural buffer against unpredictable water demands arising from accelerated global warming. It is thus essential that groundwater is considered properly in achieving UN SDG-6 Targets.
Groundwater – at the heart of nature-based solutions and integrated water resources management!
Find out more
IAH Commission on Managing Aquifer Recharge
"Ecosystem Conservation and Groundwater" SOS paper
UN SDGs for 2020 – Essential Indicators for Groundwater SOS paper