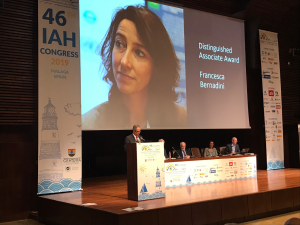 IAH recognises the service and achievements of its members and others who have worked for improved understanding of groundwater through a series of awards. Presentation of the Association's long-established awards takes place at the General Assembly, which is normally held during the annual congress. IAH commissions, networks and national groups may also choose to award individuals.
Details of the principal IAH awards and the most recent recipients are given below. If you would like to make a suggestion for a possible nominee we would be pleased to consider your idea; email idavey@iah.org with relevant details.
Interested to see the full list of IAH awardees, stretching back to 1982? See PDF, here.
Presidents' Award
The IAH Presidents' Award was established in 1995 and is determined by the current and past presidents. It is given annually to a member who has made outstanding international contributions to groundwater science and to furthering IAH's mission to promote understanding and management of groundwater resources for the benefit of humankind and the environment. In 2022 the recipient of this award was Distinguished Professor Craig T. Simmons FAA FTSE. [Read more]
Honorary Member
The Association from time to time accords the title of Honorary Member to those who have given exceptional services to IAH over a long period. The candidates are elected, following a recommendation by Council, by a vote of the General Assembly of the Association. The most recent recipient was Dr Nicholas Robins, whose nomination was approved by those participating in our General Assembly (via Zoom) in September 2022. [Read more]
Distinguished Associate Award
The IAH Distinguished Associate Award is presented to a person who is not a groundwater professional but has made an outstanding contribution to the understanding, development, management and protection of groundwater resources internationally. The Award was established by the IAH Council in 2005 and is made by the IAH Executive Committee following consultation. In 2022 no award was given, we hope to see recognition return for a worthy recipient in 2023.
Applied Hydrogeology Award
IAH's Applied Hydrogeology Award is presented to "a groundwater professional who has made an outstanding contribution to the application of hydrogeology, preferably in developing countries or in support of international development". Nominations are invited in March of each year from IAH members and are reviewed by an independent panel. The Award for 2022 is presented to Ritchie Morris. [Read more]
Questions, comments or nominations?