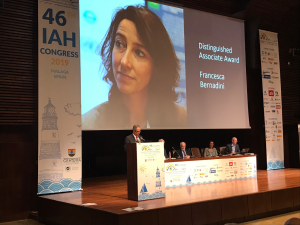 IAH recognises the service and achievements of its members and others who have worked for improved understanding of groundwater through a series of awards. Presentation of the Association's long-established awards takes place at the General Assembly, which is normally held during the annual congress. IAH commissions, networks and national groups may also choose to award individuals.
Details of the principal IAH awards and the most recent recipients are given below. If you would like to make a suggestion for a possible nominee we would be pleased to consider your idea; email idavey@iah.org with relevant details.
Interested to see the full list of IAH awardees, stretching back to 1982? See PDF, here.
Presidents' Award
The IAH Presidents' Award was established in 1995 and is determined by the current and past presidents. It is given annually to a member who has made outstanding international contributions to groundwater science and to furthering IAH's mission to promote understanding and management of groundwater resources for the benefit of humankind and the environment. In 2021 the worthy recipient of this award was Dr Judit Mádl-Szőnyi. Read more
Honorary Member
The Association from time to time accords the title of Honorary Member to those who have given exceptional services to IAH over a long period. The candidates are elected, following a recommendation by Council, by a vote of the General Assembly of the Association. The most recent recipients were Judith Flügge and Sophie Vermooten, both whose nominations were approved by those participating in our General Assembly (in person and via live link to the ceremony) in September 2021. Read more
Distinguished Associate Award
The IAH Distinguished Associate Award is presented to a person who is not a groundwater professional but has made an outstanding contribution to the understanding, development, management and protection of groundwater resources internationally. The Award was established by the IAH Council in 2005 and is made by the IAH Executive Committee following consultation. In 2021 the award was given to Gabriel Eckstein in acknowledgement of his contribution to the enhancement of policy and governance for groundwater protection worldwide. Read more and watch Gabriel's acceptance speech
Applied Hydrogeology Award
IAH's Applied Hydrogeology Award is presented to "a groundwater professional who has made an outstanding contribution to the application of hydrogeology, preferably in developing countries or in support of international development".  Nominations are invited in March of each year from IAH members; in 2021 we are grateful to our new panel of David Ball, Rifaat Saaed Salim and Yanxin Wang for their careful considerations – during which they agreed unanimously to award two worthy recipients. Thus, the Awards for 2021 were presented to:
María Stella Lizarazo Rojas, for her efforts to influence national policy making and developing improved industry practices,  while maintaining a remarkable career in water well maintenance, pumping systems and geophysical methods for groundwater surveying across Colombia. She has stood out among a sea of men – and earned recognition of drillers and consultants alike.
Paul Bauman, who has been a tireless advocate for using creative geophysical solutions to ensure access to safe drinking water for refugees, displaced persons, and water impoverished communities. Paul has volunteered countless hours to this cause and has personally funded and donated geophysical equipment to make groundwater exploration field programs possible. Paul is also an incredibly inspiring and passionate person who cares deeply about mentoring younger generations of geophysicists and hydrogeologists, including those in developing countries who would otherwise not enjoy the privilege of post-secondary education or training.
Read more and watch award presentations
Questions, comments or nominations?