A feature in our News and Information magazine, in which we ask IAH members to share insights and memories from their hydrogeological/groundwater-related careers, professional networks and more. All have really interesting stories to tell, as well as useful advice to impart to those starting out in their careers.
So, in alphabetical order…
Segun Michael Adelana (Australia)
Above all, get involved, attend conferences as an early career scientist and be available to talk to experienced people in the profession.
Steve Barnett (Australia)
"Variety is the spice of life and the making of a good hydrogeologist. They should try to gain experience in as many different aspects of hydrogeology as possible. It will make their careers interesting and their CVs appealing."
Daniela Ducci (Italy)
Hydrogeological research is very exciting, but we all have to keep in mind that a drop of drinking water for a child in disadvantaged countries with scarcity of water is more valuable than 100 papers published in prestigious journals.
Dr Judith Flügge (Germany)
Reach out to the public in the name of hydrogeology! Let's even try this: Grow your network beyond professional constraints. When politicians make their decisions, make sure it's based on scientific facts. You think you have no influence, because you are only a junior hydrogeologist? When you grow your network now, it will be large enough to reach out to decision makers once you are a senior hydrogeologist.
Sean Furey (Switzerland/UK)
"Being a charismatic public speaker helps, but what is more important on a day-to-day level is being a good listener and taking an interest in the motivations and perspectives of colleagues and clients".
Monica Guzman (Bolivia)
"Look for problems in places where it is evident that people involved need answers because that implies that there will be a stronger motivation, support, commitment, and that leads to the achievement of objectives and farther contributes to the construction of a career as extraordinary as hydrogeology"
Faten Jarraya Horriche (Tunisia)
"Groundwater is a precious resource in Tunisia. Its use, transfer and management dates since many decades. Let's work together to take care of these resources for the future generations!"

Jeremy Joseph (Thailand/UK)
Never expect "nature" to invent anything new, if a good model exists already elsewhere that will do the job, nature will use it.

Vicki Kretsinger Grabert (USA)
"Learning is an endeavour in perpetuity. Seek and engage with many mentors – mentors open doors and pathways to invaluable life and career experiences."
Shrikant Limaye (India)
While collecting hydrogeological data, talk to the local people – the farmers, etc. Show interest in their problems. The local people often give valuable information from their experience.
Carmen Julia Navarro (Mexico)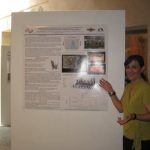 …ser un factor de cambio en las comunidades, recordando que, si bien es muy común criticar y limitar lo que se podría proponer, como diferentes formas de hacer las cosas, al final son los resultados los que justifican la razón de cualquier cambio.
…be a factor of change in communities, remembering that, while it is very common to criticise and limit what might be proposed as different ways of doing things, in the end it is the results that justify the reason for any changes.
Read interview (English version)