IAH's Strategic Overview Series (IAH-SOS) aims to inform professionals and learners in a variety of sectors of key interactions with groundwater resources and hydrogeological science. They are also intended to aid IAH members and supporters in their outreach efforts. Current titles are below: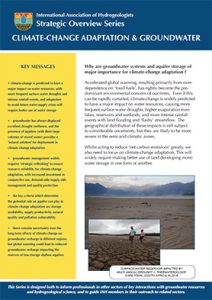 Ecosystem Conservation and Groundwater
Energy Generation and Groundwater
Resilient Cities and Groundwater
Join our mailing list
Interested in receiving news and resources from IAH? Sign up to our eNews list.
Tell us your thoughts
We are considering ideas for future papers in our IAH-SOS series – and would also welcome your suggestions. Email comments to address given below.
Your help and support needed
IAH would like to provide additional educational materials and support, and each IAH-SOS paper costs around £2000 to produce. Help us bring such thoughts to reality.