The International Association of Hydrogeologists accords the title of Honorary Member to those who have given exceptional services to the Association over a long period. Candidates are elected, following the recommendation of Council, by a vote of the General Assembly of the Association. This vote took place via Zoom in September 2022.
Dr Nicholas Robins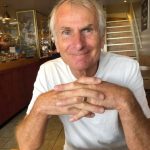 Dr Robins received his BSc in Geology in 1970 from Southampton University and then worked with the Botswana Geological Survey in Lobatse, Botswana. Returning to the UK, he received his MSc in Hydrogeology in 1974 from Birmingham University. In 2000, Nick was awarded a DSc in Earth Sciences from Birmingham University.
Following his MSc, Nick's long career in hydrogeology continued to develop, working with the British Geological Survey, and with much of this focused overseas in support of the development and protection of groundwater resources in many regions of the world. As well as the UK, his career has taken him to Ireland, Botswana, Swaziland, South Africa, Malawi, Zambia, Zimbabwe, Ghana, Nigeria, Yemen, Palestine (West Bank), United Arab Emirates, Honduras, Panama, Sri Lanka and the Caribbean region.
His work has ranged from groundwater resources development across Africa, for water supply and drought management, through hydrogeological mapping of Caribbean islands, groundwater pollution protection, including proposed radioactive waste management underground, to management of a large team of scientists.
Nick has been a member of IAH since 1980. He is a Fellow of the Geological Society of London, a Chartered Geologist and a Fellow of CIWEM. In 2006 Nick was appointed IAH's Books Editor-in-Chief, continuing in this role until 2021. During this time, Nick oversaw the publication of 20 books in IAH's prestigious series, 'International Contributions to Hydrogeology', the 'blue books', and Selected Papers, the 'green books'.
Nick continues to work as an independent consultant. In recent years he has providing training for the World Bank in Asia and SADC in Windhoek, supported UPGRO projects in Malawi and Zimbabwe, and provided support for the ORASECOM UNDP-GEF Strategic Plan proposals. In 2020 his book 'Introducing Hydrogeology', targeted at tertiary education level, was published, adding to his more than 150 peer reviewed papers, books and book chapters. For his long-term contribution to the hydrogeology profession and the work of the Association, Dr Nicholas Robins fully deserves the award of Honorary Membership.