Professor Carlos Molano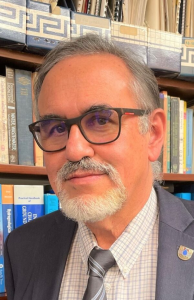 Carlos Molano has said "My first contact with groundwater was when I was very young and my grandfather used wells to get water for us." Since that time, Prof. Molano has had considerably more contact with groundwater and hydrogeological science, and today is one of our most eminent scientists and practitioners.
Carlos has degrees in civil engineering, groundwater engineering and environmental hydrogeology from Los Andes University, in Bogotá, Colombia, and the IHE Delft Institute for Water Education, the Netherlands. He is professor of Groundwater Flow and Pollution in the Department of Civil and Environmental Engineering at Los Andes University, and founder and President of the consultancy HydroGeocol. Carlos received the awards "Distinguished Latin American Hydrogeologist" from ALHSUD in 2012 and "Distinguished McEllhiney Lecturer" in 2014 from the National Ground Water Association.
Carlos is co-founder and former Vice-President of the Colombian Association of Hydrogeologists; co-founder and Vice-President of the Latin American Association for Ground Water Development ALHSUD; and from 2016 to 2022 Carlos was IAH's Vice-President for Latin America and the Caribbean.
Carlos Molano is a very worthy recipient of the 2023 IAH Presidents' Award.
He's also a mighty fine classical guitar player!