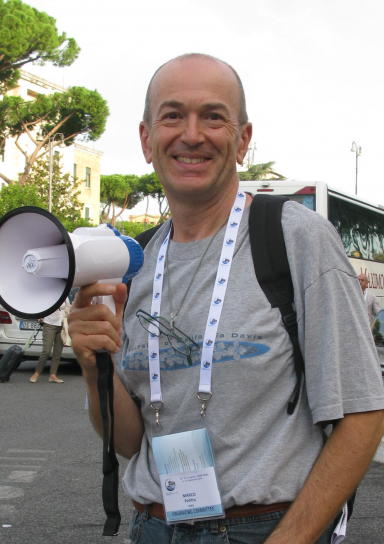 Marco Petitta
Vice President, Programme and Science Coordination
Biography
Marco Petitta, PhD is Full Professor of Hydrogeology at Sapienza University of Rome, Italy, where he is teaching Basic Hydrogeology, Groundwater Hydrodynamic and Applied Hydrogeology. His responsibilities include the supervision of PhD students. He is author of more than 90 papers on international journals and more than 100 articles on national journals and proceedings. After obtaining a PhD in groundwater modelling, his research focuses on groundwater management, interaction between stream and groundwater, human influences on groundwater quantity and quality, remediation of polluted sites, isotope techniques for groundwater studies, role of groundwater in environmental and ecological studies, and groundwater-seismicity relationships.
Marco coordinated the European Project Horizon 2020 KINDRA (2015-2018), dedicated to a knowledge inventory for hydrogeology research and he is currently national responsible of the EU PRIMA project KARMA (2019-22) on karst aquifers in Mediterranean area.
Former IAH roles include being Chair of the Italian Chapter from 2012 to 2016. In 2015 he was Chair of the 42nd International Congress of IAH, AQUA2015. From 2016 he served as Vice-President of IAH for Western and Central Europe.
Marco is also Coordinator of the Panel of Experts in Hydrogeology of the EFG (European Federation of Geologists) and Member of the Working Group of Groundwater of the European Commission, for the Common Implementation Strategy of Water Directives.
International research links are active with several Universities and Research Centres in Europe and Worldwide.
Personal Statement
I look forward to undertaking my new responsibilities for IAH and aim to bring experiences from previous activities for Western Europe, as chair of the Italian Chapter and of IAH's international congress in Rome in considering IAH's programmes and vision.
Over the years I've had opportunities to meet colleagues from other chapters, especially in Europe, enlarging my views on groundwater issues. Being chair of the Rome congress in 2015 offered other possibilities to interact with international scientists and practitioners in hydrogeology. I have also frequented European groups and associations related to EU policy on groundwater through Working Group C and the European Federation of Geologists and others, due to my involvement in the Horizon2020 programme as coordinator of the KINDRA project, and now as National Principal Investigator of the new KARMA project (under PRIMA program).
Based on these recent experiences, I believe there is room for increased visibility of groundwater issues at the international scale, taking into account the 21st century challenges. e.g. water-food-climate-energy nexus, SDGs and policy and governance of water and groundwater.
It is my intention to continue to promote networking of National Chapters at the world-wide level, coordinating national initiatives over the next three years. I would like to attract new members by promoting IAH's broadening scientific activities and reinforcing educational initiatives, adopting new communication tools. Finally, I will endeavour to improve the visibility of IAH promoting interaction among Commissions and Networks, raising awareness on the importance of groundwater not only in the technical and scientific community, but for stakeholders and the general public too.
Thank you for your support.