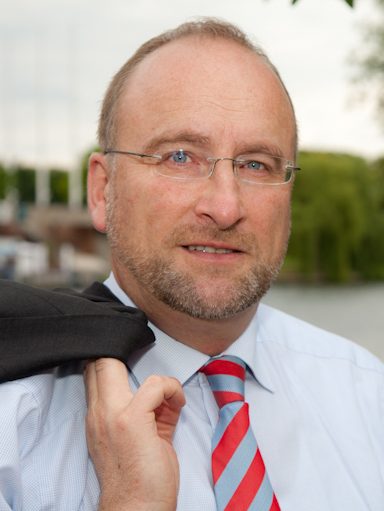 Ralf Klingbeil
Vice President, Programme and Science Coordination, Germany
Biography
Dr Ralf Klingbeil holds a PhD in Hydrogeology from Tuebingen University, Germany (1999), a MSc in Hydrogeology from University of Birmingham, UK (1991), and in Geophysics from Kiel University, Germany (1993). After working as hydrogeologist with private companies in Germany and the UK, he joined BGR, the German Federal Institute for Geosciences and Natural Resources in 2001.
Dr Klingbeil worked for BGR in different functions: For the coordination of development cooperation projects in Africa and the Middle East, as project coordinator of a regional groundwater and IWRM project at a regional UN (United Nations) organization for the Middle East based in Lebanon; as project coordinator for a global project on groundwater policy advice based at BMZ, the German Federal Ministry of Economic Cooperation and Development. Ralf then joined the UN; first for a UN-Water programme on capacity development based in Germany, followed by more than seven years as Regional Advisor Environment and Water for a UN regional commission based in Lebanon and as Network Coordinator for AWARENET, the Arab Integrated Water Resources Management Network for capacity development in sustainable water management. In his personal capacity, he served 2014-2017 as a member of the Board of Directors for MENA NWC, the Middle East North Africa Network of Water Centres of Excellence.
He re-joined BGR in 2016 as Senior Expert Groundwater. Today, his BGR activities focus primarily on international groundwater, networking and public relation for groundwater and soil science, as BGR contact person for GRIPP, the Groundwater Solutions Initiative for Policy and Practice and technical backstopping for BGR groundwater projects with partners in developing countries.
Further information: https://www.linkedin.com/in/ralfklingbeil
Personal statement
I am pleased to be elected as IAH Vice President – Programme and Science Coordination. In this function it is my aim to enhance IAH's role and groundwater visibility in international policymaking in the context of UN-Water and the global water architecture, including the water-related Sustainable Development Goals. IAH, with other partners, can play a major role at national and international levels in implementing and supporting activities for 2022, the UN-Water year on "Groundwater: Making the Invisible Visible". IAH is a well-established international voice of groundwater and can offer its professional expertise in global processes among others the hydrogeological perspective in the monitoring of the SDGs at global and national levels.
As part of the functions as VP science and programme, I intend to support IAH Commissions and Networks and seek opportunities to promote their activities within IAH, at regional levels and to the wider water science and development communities. IAH Congresses offer great potential to highlight the achievements of IAH Commissions and Networks and promote more cooperation. Current global challenges show the need for new approaches to international cooperation. Also IAH will adapt by developing new collaborative spaces and outreach to the wider global community. The international water, science and development world is continuously moving and changing and IAH will liaise with those actors and institutions creating new opportunities and avenues for hydrogeologists and groundwater to flow into mainstream global water policymaking.