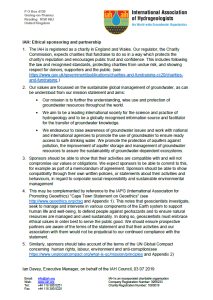 Following the successful transfer of the IAPG (International Association for Promoting Geoethics) 'Geoethics and Groundwater Management' conference online (see separate story) it is worth drawing attention to the IAH's own statement relating to geoethics.
IAH's ethics statement was drafted with a particular aim of helping us to be clear about our relationship with corporate sponsorship. Sponsors should be able to show that their activities are compatible with and will
not compromise our values or obligations for managing groundwater. We expect sponsors to be able to commit to this, for example as part of a memorandum of agreement. Sponsors should be able to show compatibility through their own written policies, or statements about their activities and behaviours, in regard to corporate social responsibility and sustainable environmental management.
We also refer to the IAPG "Cape Town Statement on Geoethics" which notes that geoscientists investigate, seek to manage and intervene in various components of the Earth system to support human life and well-being, to
defend people against geohazards and to ensure natural resources are managed and used sustainably. In doing so, geoscientists must embrace ethical values in order to best to serve the public good. (For further
information, see http://www.geoethics.org/ctsg).
You can find the full IAH statement here: https://iah.org/wp-content/uploads/2019/07/IAH-and-ethical-sponsoring.pdf.