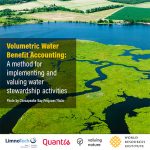 Major multi-national companies have often been criticised for demonstrating their responsibilities towards natural systems in largely cosmetic ways. In recent years, however, they have realised the need to understand better the threats that their activities can pose to ecosystems and the communities who depend on them. Many companies have now established their own environmental capabilities and expertise. With increasing evidence of actual or potential negative impacts on water quantity and
quality, companies are now beginning to embrace a 'Water Stewardship' approach to restoring and protecting resources.
Early in 2018 Patrick Lachassagne, secretary of the French chapter of IAH (and at that time working for Danone Waters) asked IAH President António Chambel to support a consortium working on quantifying the benefits of water stewardship projects. IAH's role would be to take part in the review process and advise the consortium. The invitation was accepted and John Chilton, the retired IAH Executive Manager, available for immediate involvement, was asked to represent the Association.
A summary of the review process was featured in our December 2019 "News and Information magazine – see links below.
Find out more
December 2019 News and Information magazine (article is on page 10)
https://www.wri.org/publication/volumetric-water-benefit-accounting (Report)