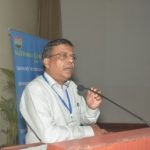 A National Conference on "Groundwater Management in Mining and Social Sectors"was jointly organised by our Indian Chapter (INC-IAH) and Society of Geo Scientists, Jharkhand (SGSJ) in September at Ranchi.
Its aim was to create a knowledge platform for a variety of stakeholders including government organisations, researchers, industry, NGOs and voluntary organisations, to enable views and experiences in the field to be shared, to better understand problems and to suggest potential solutions.
More than 250 Delegates from 16 states India attended. Out of a total of 52 research papers submitted, 26 papers were presented in four technical sessions under different sub-themes: Ground Water Challenges in Mining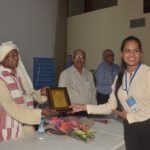 Sectors, Ground Water Challenges in Urban and Rural areas, Ground Water quality and Ground Water Sustainability. During the conference, papers presented by Mr Pradip Paul and Ms.Ritu Bala were judged as "best paper presentations" under the the young scientist category.