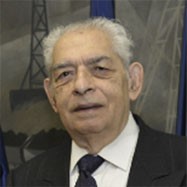 It is with deep sadness and regret that we inform you of the passing of Professor Emilio Custodio on August 15, 2023. The world of hydrogeology has lost one of its greatest advocates and scholars, leaving an irreplaceable void in our community.
Professor Custodio dedicated his life to the understanding and promotion of groundwater resources, leaving a lasting legacy on water science and management. His research on groundwater in coastal systems and wetlands, in places such as the Doñana Natural Area in southern Spain and the lower Llobregat aquifer system near Barcelona, as well as his collaborations in Chile, and his work in the Canary Islands and Catalonia, demonstrate his interests and activities.
Throughout his distinguished career, Professor Custodio was the author of countless academic publications, directed a multitude of doctoral theses and led research projects that revolutionised the understanding of aquifers and their interaction with the environment. Also noteworthy was his commitment to excellence and ethics in hydrogeological research, which set a benchmark for several generations.
In addition to his academic contributions, Professor Custodio was President of the International Association of Hydrogeologists (2000-2004), President of the Spanish Group of the IAH (1990-1994), promoter of the International Groundwater Hydrology Center Foundation and Director of the Geological and Mining Institute of Spain (1997-2004) from where he promoted scientific research in groundwater.
The hydrogeological community will miss him deeply as we continue his legacy in the search for a more secure and sustainable water future. The world is truly a better place thanks to Emilio.
From IAH and IAH Grupo Español, we would like to convey our sincere condolences to Emilio's family, friends, colleagues and the entire IAH community.
---
Obituario Profesor Emilio Custodio
Con profunda tristeza y pesar lamentamos informaros del fallecimiento del ilustre Profesor Emilio Custodio el 15 de agosto de 2023. El mundo de la hidrogeología ha perdido a uno de sus más grandes defensores y eruditos, dejando un vacío irremplazable en nuestra comunidad.
El Profesor Custodio dedicó su vida a la comprensión y promoción de los recursos hídricos subterráneos, dejando una huella indeleble en la ciencia y la gestión del agua. Su erudición sobre aguas subterráneas en sistemas costeros y humedales, en lugares como el Área Natural de Doñana en el sur de España y el sistema acuífero del bajo Llobregat cerca de Barcelona, ​​sus colaboraciones en Chile, su trabajo en Canarias y Cataluña hablan de sus intereses y actividades.
Con una carrera distinguida, el Profesor Custodio fue autor de innumerables publicaciones académicas, dirigió multitud de tesis doctorales y lideró proyectos de investigación que revolucionaron la comprensión de los acuíferos y su interacción con el entorno. Destacar también su compromiso con la excelencia y la ética en la investigación hidrogeológica que lo convirtió en un referente para varias generaciones.
Además de sus contribuciones académicas recordar también que el Profesor Custodio fue Presidente de la Asociación Internacional de Hidrogeólogos (2000-2004), Presidente del Grupo Español de la AIH (1990-1994), promotor de la Fundación Centro Internacional de Hidrología Subterránea y Director del Instituto Geológico y Minero de España (1997-2004) desde donde impulsó la investigación científica en aguas subterráneas.
La comunidad hidrogeológica extrañaremos profundamente su persona mientras continuamos su legado en la búsqueda de un futuro hídrico más seguro y sostenible. El mundo es verdaderamente un lugar mejor gracias a Emilio.
Desde la AIH-GE queremos transmitir nuestras condolencias a su familia, amigos, colegas y a toda la familia de la IAH.