Global workshop "Conjunctive Management of Surface Water and Groundwater: National to Transboundary Level" (16 – 17 October 2023, Geneva and online), hosted by the UN Economic Commission for Europe (ECE).
Short report
The IAH was well represented in the recent UN ECE event on conjunctive management of water resources.
More information and the presentations can be accessed here …   https://unece.org/environmental-policy/events/global-workshop-conjunctive-management-surface-water-and-groundwater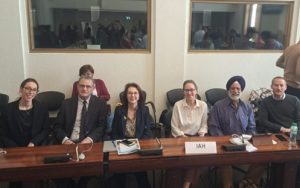 Alice Aureli (representing the IAH) gave a keynote on the global water agenda and stressed the significance of conjunctive management of water in international discussions and debates. Shammy Puri presented the science to policy background, noting that in some instances of water budget calculations, the aquifer resource is disregarded by setting its input – output to zero, thus leaving it invisible in the minds of decision makers. Karen Villholth summarised the findings of a study on the presence of conjunctive management in transboundary water treaties, noting that there are few treaties that explicitly address aquifers, and fewer still that address conjunctive use and management. Several interesting case histories were presented by, among others, Gabriel de los Cobos (the Franco-Geneva aquifer), Alberto Manganelli (Guarani Aquifer), Kevin Pietersen (SADC region aquifers), Arnaud Sterckx (IGRAC sub-Saharan aquifers).
As background to this important workshop, a Technical Note setting out the key elements of conjunctive water resources management was also prepared by a team of IAH members accessed here …. https://unece.org/sites/default/files/2023-09/GWCM%20Technical%20Note.pdf
Prepared by Shammy Puri, Alice Aureli, Karen Villholth