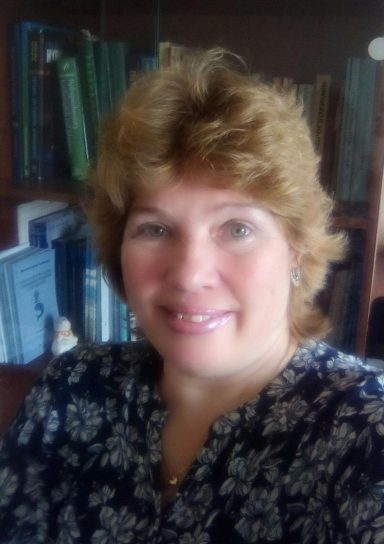 Natalia Vinograd
Vice President - Eastern Europe and Central Asia
Biography
Natalia Vinograd is Associate Professor of Hydrogeology in the Institute of Earth Science, St Petersburg University. She graduated from the Department of Hydrogeology of St Petersburg University in 1992 and gained her PhD (2000) on mineral, medicinal and industrially valuable water in the northern part of the Russian Platform. She worked at the All-Russian Research Institute of Petroleum Geology (1992-1993) and with ESB International in Ireland (1997). Natalia joined IAH in 1997 and the Commission on Mineral and Thermal Waters (CMTW) in 2001. She is also a member of the Russian Union of Hydrogeologists since 2012. Natalia was elected IAH Vice-President for Eastern Europe and Central Asia in 2016.
Dr Vinograd's interests cover mineral waters, groundwater quality, water supply and the hydrogeology of the St Petersburg and other regions. She lectures in general hydrogeology, mineral waters, hydrogeological mapping, mathematical methods in hydrogeology and petroleum hydrogeology and conducts student field training in hydrogeology.
Natalia has participated in many international conferences, seminars and workshops, and has published about 60 papers in national and international journals and books. She was a main organizer of the international Symposium "Future of Hydrogeology" (St Petersburg, 2007), CMTW annual meetings (St Petersburg, 2001 and Pyatigorsk, 2019). She has collaborated with hydrogeologists of many countries (Poland, Ireland, Finland, USA) and is a member of the UN Expert Group on Resource Management on application of the United Nations Framework Classification for groundwater. As well as Russian, Natalia speaks fluent English and good German.
Personal statement
Since becoming Vice-President for Eastern Europe and Central Asia my main activities have been disseminating knowledge about IAH, increasing the region's influence on IAH policy and activities and expanding membership, with the Russian group increasing, including one corporate member. A goal to increase the participation of regional colleagues at IAH Congresses and conferences was successful, despite the challenging economic situation in our countries.
I intend to continue promoting IAH's mission, goals and activities to attract regional members and will focus on corporate membership, which I believe has the most potential for this. The region is rich in groundwater resources but problems are significant in many areas. I can facilitate international relationships and improve communications within the region to increase awareness of hydrogeology and modern approaches for solving water supply problems.
Encouraging colleagues to publish scientific papers in Hydrogeology Journal and IAH books on regional issues for wider awareness is important. Promoting IAH meetings and activities of IAH Commissions within the region are also important. As a member of the Commission on Mineral and Thermal Water I supported the Centre for Geology of St. Petersburg University, LLC, a corporate IAH member, and the Russian National Chapter, in organizing its 2019 meeting in Pyatigorsk, Russia.
A priority is to involve young hydrogeologists in the scientific community and I have good opportunities for this at the university. Disseminating hydrogeological knowledge is important, globally, to increase awareness about groundwater quality and protection. I welcome the opportunity to participate in such activities both through the IAH Council and mass media.