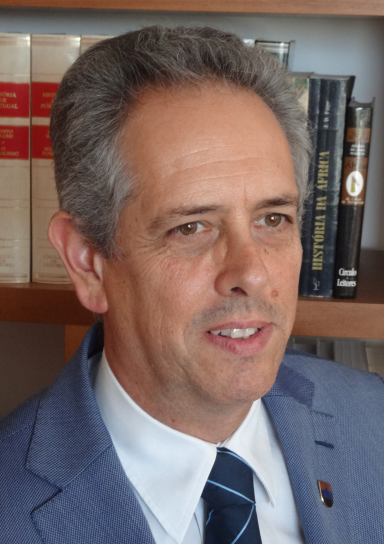 Antonio Chambel
IAH Past President
Biography
António Chambel was born in Sardoal, Portugal in 1961. He graduated in Geology from University of Coimbra in 1984, obtained an MSc in Economic and Applied Geology from University of Lisbon in 1990 and a PhD in Geology, specialising in hydrogeology, from University of Évora in 1999. He has been a lecturer of hydrogeology in the Department of Geosciences of University of Évora since 1985 and from 2003 to 2005 was Head of the Department. He has also been a lecturer at the University of Algarve (2 years), the Universities Charles of Prague, Huelva (Spain) and Sapienza, Rome, under the ERASMUS Programme, and at the Superior Institute of Transports and Communication in Maputo, Mozambique (Master in Environmental Impact Studies).
From 2002-2006 António was President of the South Chapter of the Portuguese Water Resources Association (APRH) and from 2004-2008 he was the President of the IAH Portuguese Chapter. He has been an IAH member since 1988; from 2008-2012 he was IAH Vice-President for Finance and Membership, in 2012-2016 IAH Vice-President for Programme and Science Coordination and from 2016-2020 IAH President. In 2007 he was chair of the 35th IAH Congress in Lisbon.
António has extensive international experience, including contributing to the work of UNESCO-IHP, the World Water Council (WWC), the International Network of Basin Organisations (INBO), UN-Water, amongst others. He has attended many IAH congresses and other IAH regional or national meetings, and has also represented IAH in many other events around the world.
Personal statement
IAH has a responsibility to improve the scientific level of world hydrogeology, through the work of its commissions and networks, the dissemination of hydrogeological knowledge between scientists working in water-related scientific branches, by raising awareness in organisations responsible for water governance and with the public more generally about groundwater issues.
In the past twelve years I've contributed to the IAH Executive's efforts, planning the future of the Association in line with the Forward Look strategic goals. I hope that the experience of these years will serve well in my post as IAH Past President. For the current Council I intend to make available insights gained, particularly related to those from representing IAH in some of the most important international water-related institutions and organisations. I will remain at IAH's service as and when my contribution is needed. I will continue to pursue the mission of IAH in these challenging times, giving consideration to future planning. This will include improving the quality of conferences and other meetings under the auspices of IAH, reinforcing the importance of commissions, networks and national chapters, as well as assuring the continuing development of IAH, particularly through the initiatives and work of early career members who will continue to play a key role in the future of the Association as it progresses.
Other challenges are the future of IAH publications, including its books and Hydrogeology Journal, knowing that online publications are ever more present in our lives and the greater influence IAH must have at international level – from the identification of the biggest groundwater challenges in the world through to improved collaboration with international organisations working on water issues. More integration between hydrogeology and other water-related sciences and engineering is required. Groundwater governance must be improved and coordinated more effectively in partnership with others. Dissemination of scientific information and education about water for all must also continue to be a priority for IAH in the immediate future.
This is my commitment with IAH for the next 4 years.